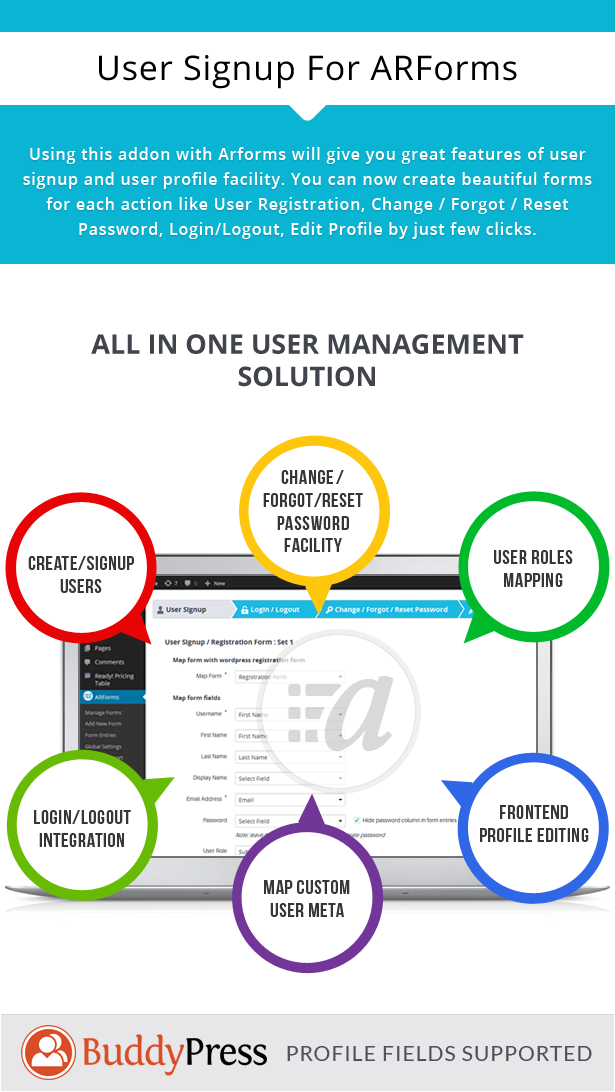 Advanced user signup integration

With ARForms User signup Add-on you can set custom user meta with registration form. That means you can set additional fields other than wordpress standard registration fields. You can select existing user meta as well as set new meta(s).

You can manage user default role while user registration.

You can send notification to users after successful signup with your site.

Auto-login facility after user signup.

Ability for User Login / Logout.

ARForms User Signup Add-On allows you to login user within your site only. For that you need to map existing ARforms' form with this add-on. User will be loggedin to your site after submitting form with corret credentials. You can also manage redirection URL after successful logged-in to your site.
You can put a link or Button for user logout. just place a shortcode from this add-on for logout. You do not need to manage anything else

Ability to Change Password and Retrieve Forgotton Password

ARForms User Signup Add-On allows your site users to change their password from front-end. This add-on has facility to validate user's old password before change new password.
With this add-on your site users also can retrieve their fogotton password by entering their email or username.

Ability to update User Profile from front-end

ARForms User Signup Add-On allows your site users to edit their profile from front-end. This add-on will auto populate all the user's data which he has
entered while signup. User can modify his profile data and update their profile immediately after submit the form.